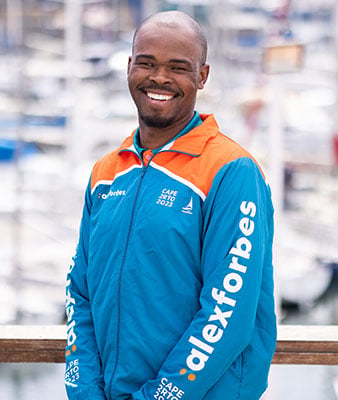 Sibusiso hails from Qumbu, near Mthatha. He spent his early years herding his family's livestock until, at the age of 10, he and his family moved to Masimuphelele in Cape Town. He was first introduced to sailing by an NGO in Simonstown, but it didn't interest him much at the time. It was only two years later, when he was tired of his sailing friends always leaving him behind when they travelled to compete, that he took up the sport seriously. Overcoming some serious issues, like not having a birth certificate or ID, Sibusiso eventually earned the right to represent South Africa at events around the world. Sibusiso volunteered as an instructor at the RCYC Sailing Academy in 2017, and is now a senior instructor and responsible for 45 youth from neighbouring townships. Now presented with the opportunity to take part in the Cape2Rio Yacht Race, Sibusiso is eagerly waiting to for the chance to complete the iconic race with a 100% Academy sailing crew.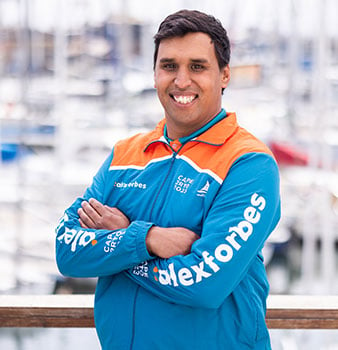 Supporting Skipper Sibusiso Sizatu will be Grassy Park resident and first mate, Daniel Agulhas. Some may say Daniel was destined to have a love for the open seas, sharing a surname with the southern-most tip of Africa where the Atlantic and Indian oceans meet. A lover of all sports, Daniel turned his focus to the ocean in 2008 when he was among the first intake at the RCYC Sailing Academy. He has completed a course in boat building and plies his trade for a company which outfits the electronics on new yachts. Daniel loves drawing parallels between sailing and life – such as not being able to control the weather, but rather making adjustments to make adjustments to better navigate the sea. Daniel aims to complete the Cape2Rio and forge a path for other members of his community to follow in his footsteps.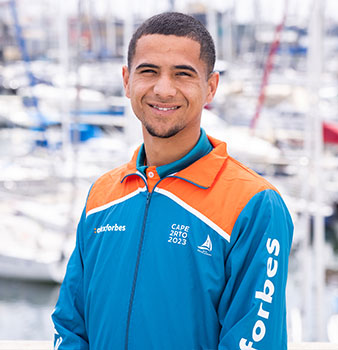 Athlone resident Justin Peters has always had the dream of taking part in the Cape2Rio Yacht Race, ever since joining the RCYC Sailing Academy in 2018. Justin is the youngest of the crew at just age 21, but won't let this get in the way of his excitement for the race. He is most attracted to the teamwork required to successfully crew a yacht, in the heart of a very competitive environment during races. This will be a significant milestone in Justin's oceanic experiences, as he looks to work on superyachts in the future.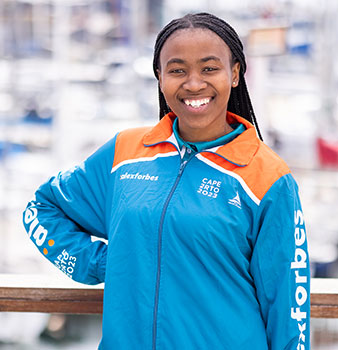 Azile grew up in Engcobo near Mthatha, but moved to Cape Town after primary school. Now living in Khayelitsha, Azile had to overcome a serious fear of the ocean in order to get where she is now and, though she now loves the water, still opts to swim in a life jacket. Azile is currently studying a diploma in entrepreneurship, but spends her days working at the RCYC Sailing Academy reception and helping at events as part of her work-in-training. She is unphased by being the only woman in the crew, saying the crew has known each other for four years now and share tasks fairly. Though she admits the weather can be a daunting factor, she also believes if there's no wind, there's no fun – so is eager to experience what the ocean has in store for her and her crew.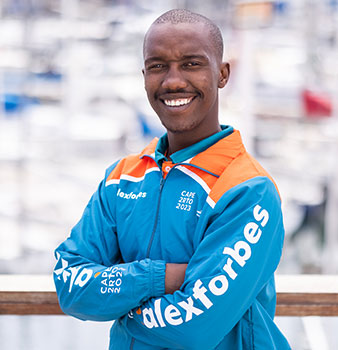 Thando hails from Ladysmith in KZN, though he moved to Masiphumele in Cape Town at the age of three with his mother. It didn't take him long to begin adventuring out onto the Izivungovungo Sailing Project in Simonstown helped get Thando out at sea from just eight years old. His love for the ocean blossomed as he studied maritime at the SA Maritime College – though he dropped out because of affordability. The RCYC Academy allowed him the opportunity to continue doing what he loves, working as a rigger and instructor. Thando is grateful for the opportunity Alexforbes has afforded him to take part in the Cape2Rio Yacht Race, as it is something he's wanted to do from childhood.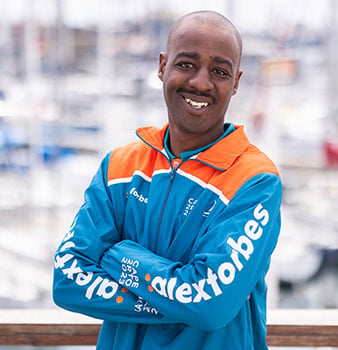 Renaldo was born far from the ocean, which makes his journey to joining the Alexforbes ArchAngel crew that much more remarkable. Now living in Fish Hoek and working at the RCYC Academy fixing boats, Renaldo is a picture of hope for making something out of a rough start. By undertaking something as challenging as the Cape2Rio Yacht Race, he aims to set an example for his six-year-old son, Tumelo, who Renaldo hopes to teach to sail next year.
Join the Alexforbes ArchAngel crew on their Cape2Rio journey!